Model NO.: PHYM
Proportional: 3% or 6%
Material: 20#
Rubber Material: Rubber
Flange Size: 2.5′′ ---10 ′′
Color: According Customer Requiryment
Transport Package: Wooden Pallet or Wooden Case
Origin: Made in China
Type: Vertical or Horizontal
Flow Rate: 4-154L/S
Working Pressure: 6-12 Bar
Accessories: Ball Valve and Others
Flange Standard: According Customer Requiryment
Trademark: BAIAN OR OEM
Specification: 200-130000 Liter
HS Code: 8424100000
5

Brief Information Of Foam Bladder Tank

The Baian foam bladder tank is a steel pressure vessel fitted with an internal bladder that stores foam 

concentrate .During operation ,water supplied to the bladder tank displaces the foam concentrate and 

collapses the bladder until the concentrate is depleted .

The bladder tank discharges foam concentrate is at approximately the same pressure as the water 

supplied at the water inlet connection to the tank .Since the bladder tank is pressurized , the bladder

should not be refilled during operation .Frequently used in aircraft hangars ,loading racks ,sprinkler

system , and offshore platforms.

Materials and Specifications of Structures of Foam Bladder Tank

1) The bladder tank body is made of 20# high quality carbon structural steel (under codes and standards

of China and ISO, Â This kind of steel is suitable for the welding and construction of tanks for fire fighting foam proportioning system utility.

2) Bladder in nitrile butadiene rubber and polyester, available of the tensile strength that ensures no

ruptures under operation conditions.

3) Main valves are made of corrosion resistant stainless steel.

4) Pipe networks made of seamless steel pipe. The inlet and outlet of ratio controller will be in DN100 (4")

with a pressure from 6 bar up to 12 bar. 
| | |
| --- | --- |
| Name  | Foam Bladder tank  |
| Size  | 200-130000L |
| Flow rate  | 4-154L/S |
| Flang size | 2.5''-10'' |
| Flang standard  | Customer requiryment  |
| Working pressure | 6-12 Bar |
 

Products Picture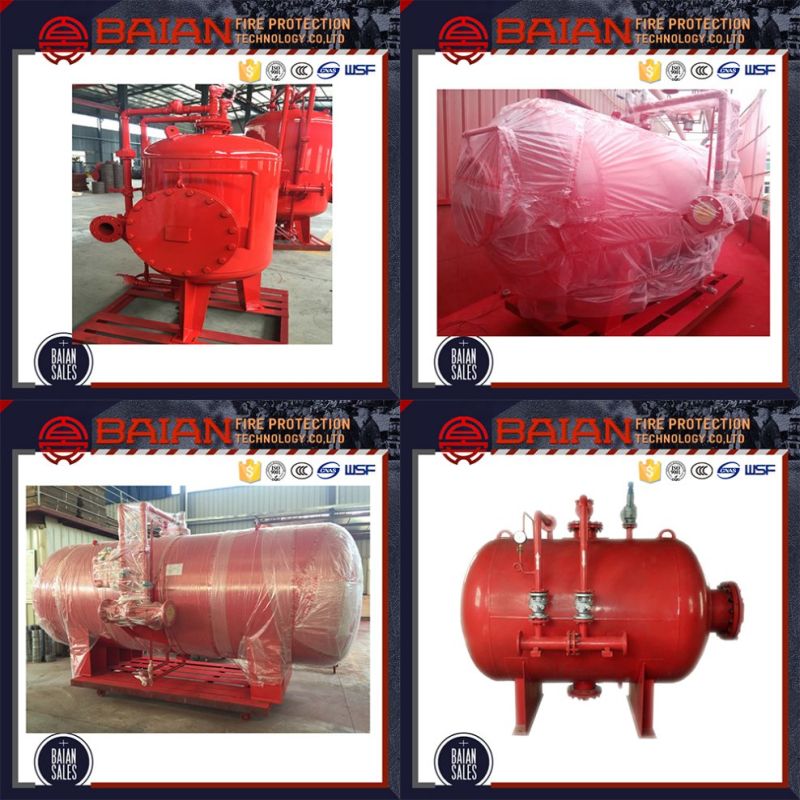 Packing picture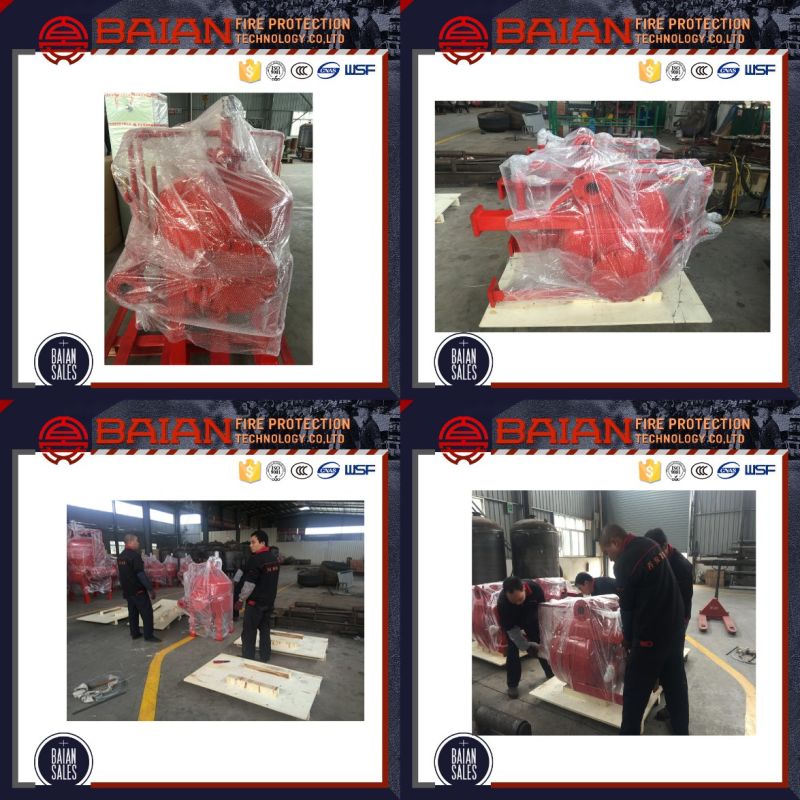 Company information Baian (BAFF) fire-fighting co.,ltd is located in the southeast coast of Fujian, established in 1990, is covering 120000 square meters of workshop and office building. All its products, which have been certified qualified by CCC Certification and have obtained Product Type Approval Certificate granted by Public Security Ministry as well as ISO9001:2008 Certificate. We are also manufacturing and supplying a wide range of related fire accessories including fire hydrant, fire hose, water pump connectors, fire alarm system, fire valve, fire gas extinguishing system,etc.

All Baian (BAFF)People are deeply aware that good quality, advancing management, quality service has helped Baian fire-fighting take a leading position in the line. Our brand products are now registered and indentified in the world such as French, Spain, Romania, Saudi Arabia, USA, etc.

Being as a international manufacturer of fire equipment, we guarantee the quality and performance of our products as well as our after sales service. We welcome customers to visit and cooperate with us.Our company has a history of more then 30 years , 5 years of alibaba gold supplier . Registed capital of RMB 57.88 million , 180000 Â square meters and more then 200 employees and more then 50 research and design staff.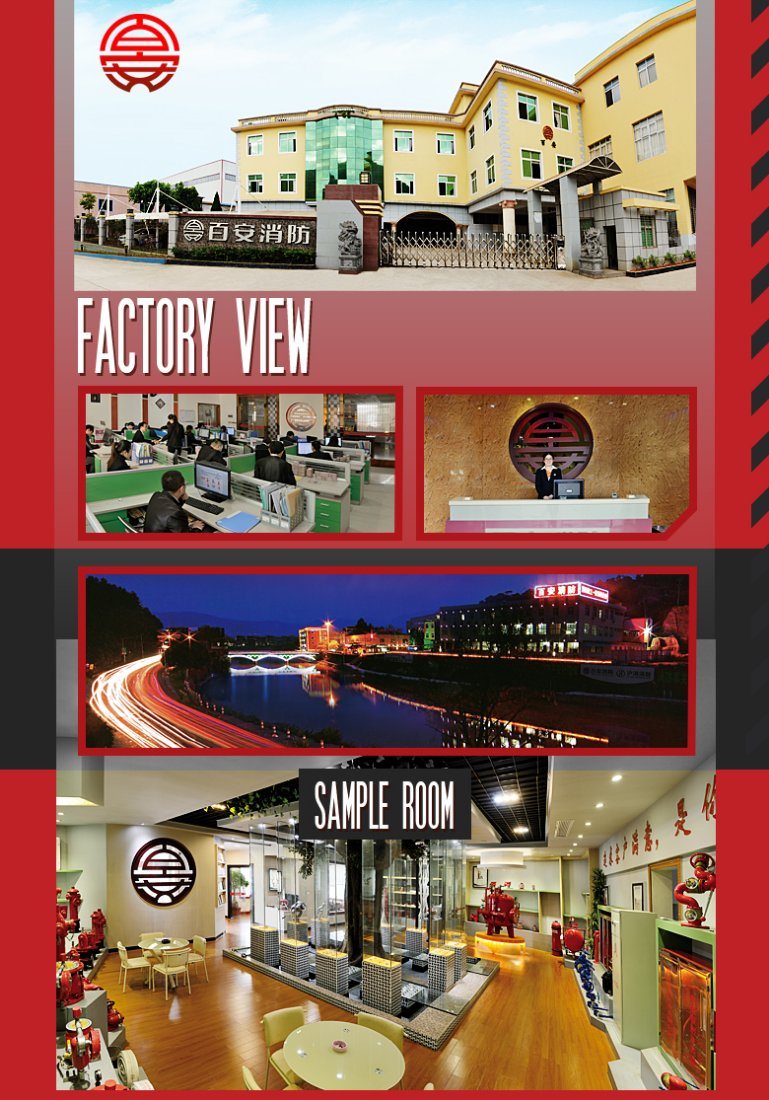 HOT SALE PRODUCTS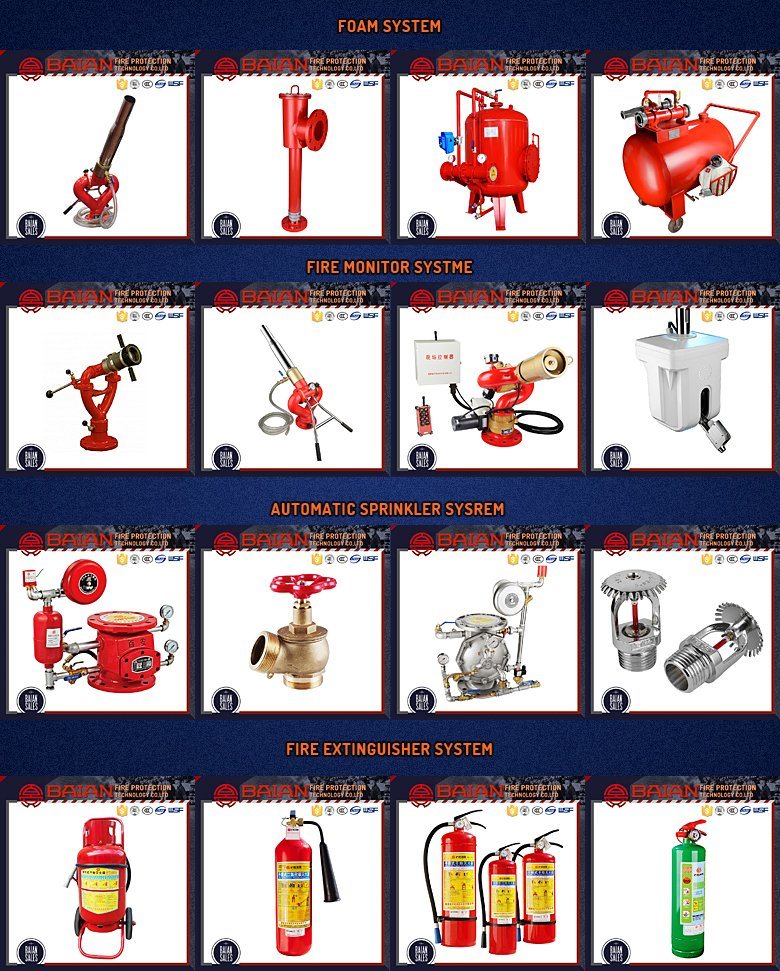 WHY CHOOSE US ?

1.We have in fire fighting for more then 33 years (old manufacturer in china )         2.  Fixed access of 55.88 million RBM                                                                              3.We are technology manufacture , we can have drawing for you before order , also have 3 D drawing if customer inquiry                                                                         4.We have 8 years for export hope can provided you a professional purchase             5.Focused on surface on all products                                              
  6.BAFF company have branch company in signapore                                                    7.Every year have oversea exhibition for our brand . 

PDC chain saw cutter for chain saw machine, round Diafront PDC cutter for marble stone cutting with tail,as high abrasion resistant, high impact resistant and high thermal stable.PDC (Polycrystalline Diamond Compact) Cutter is kind of superhard material that compact polycrystalline diamond with tungsten carbide substrate at ultra-high temperature and pressure.PDC Cutters are widely Chain saw for marble and limestone quarry.

Pdc Cutter For Chain Saw,Pdc Cutter Chain Saw,Pdc Inserts For Pdc Chain Saw,Diamond Cutter For Pdc Chain Saw

HENAN YALONG DIAMOND TOOLS CO.,LTD , https://www.pdcpcbncutter.com
October 19, 2021